Now auditioning

The Silicon Valley Boychoir is a 501(c)3 non-profit arts organization for boys (ages 7 and up) which rehearses in midtown Palo Alto. EIN: 45-2913530
Mission statement: To train boys in the choral art with an emphasis on music literacy and the highest artistic standards. Boys will learn life-long skills and go forth into the world as skilled tenors and basses and leaders in their future choirs.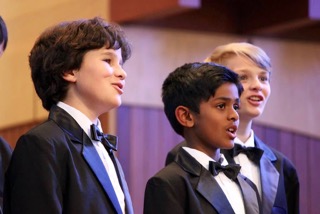 The Silicon Valley Boychoir offers boys an opportunity for excellent vocal training, music literacy, and artistic achievement.
Vocal training: boys will learn proper breathing and singing techniques, development of a healthy pure tone and pure vowels. Boys will increase their singing range and gain confidence by performing a variety of styles (classical, contemporary, folk songs, sacred and secular choral standards).
Music literacy: Boys will learn how to read music using a specific step-by-step approach incorporating music theory and a modified Kodaly method.
Artistic Achievement: With solid vocal training and strong skills as musicians, boys will gain confidence in their artistic achievement, experience the joy of choral singing, and share performances with the community.
Research shows the benefits of choral singing (Chorus America's 2009 Chorus Impact Study) leading children to get significantly better grades than their non-choral peers. Parents in the study also reported that their children displayed better memory, good practice and homework habits, and higher levels of creativity. More surprising, teachers reported a noted difference in chorus singers and their behavior in classrooms verses non-choral students.
And why a boychoir? Boys need a safe environment to sing with other boys. Boys joining mixed choirs tend to drop out as the number of girls increases. Boys' treble voices create a distinctive sound that has been loved throughout the centuries. Also, boys go through a unique voice change that needs to be coached and handled sensitively. And most important, boys who love to sing find other boys who love to sing.
What makes Silicon Valley Boychoir different?
Convenient weekly rehearsals.
Perfect for busy families! Beginner and intermediate boys rehearse before the dinner hour. Easy parking, great location in midtown Palo Alto on the free cross-town shuttle route.
A personalized approach to singing and skill building.
Small classes allow for vocal coaching and individualized instruction in learning to read music and understand music theory. These musical skills apply and translate to other musical contexts and interests (such as musical instruments). The small classes ensure individual attention, and boys do not get lost in a crowded setting. Each boy is taught sight-reading and given skills to create a strong, independent, and confident singer.
Family and community-centered.
Community building is an important feature of SVB. Boys of all levels join together for special rehearsals combined with family potlucks and recreation time. Boys perform in concert with their choir level and join together all voices in pieces at each concert. Life-time friendships are formed among boys who love to sing.
Skilled teachers.
Our dedicated and talented directors have decades of experience working as voice teachers, vocal coaches, and conductors. They have trained singers for local performances and national competitions as well as coached singers to perform with the Bay Area's leading music organizations including: San Francisco Opera, San Francisco Symphony, Opera San Jose, West Bay Opera, and Peninsula Symphony.
A growing organization in a central location.
SVB is a growing boychoir and is located in midtown Palo Alto, on the free cross-town shuttle route. SVB concerts are held in Palo Alto. SVB also sings as invited guest artists for local events.
Highlights of past seasons
In addition to our regular concerts
2020-2021
Virtual semester and voice lessons culminated in a spring video, "Looking Up."
SVB Studio - a new curriculum highlighting solo singing with classes and lessons
A Gift of Song video - an at-home concert showcasing our singers
2019-2020
Tenth Anniversary Celebration
Channing House concert in the fall
Spring semester interrupted by the pandemic
Virtual Talent Show Video performance
2018‑2019
West Bay Opera, Puccini La Boheme (Ragazzi parts)
Stanford Basketball - National Anthem
Festival for Young Voices invitational
Channing House concerts fall and spring
2017‑2018
Stanford Basketball - National Anthem
Channing House concerts fall and spring
2016‑2017
West Bay Opera, Puccini Trifecta
Carmina Burana with Stanford Symphonic Chorus and Orchestra
Opera Cultura, Bless Me Ultima
Channing House concerts fall and spring
2015‑2016
Stanford Basketball - National Anthem
2014‑2015
Tour de Palo Alto, First Congregational Church and First Lutheran Church
Summer 2015, Sang outdoor concert for City of Palo Alto Summer Twilight Series
Channing House concerts fall and spring
2013‑2014
Fall 2013, West Bay Opera, Tosca (Ragazzi parts)
First Tour de Palo Alto: First Congregational Church and First Lutheran Church
2012‑2013
Spring 2013, sang St. Matthew Passion with Schola Cantorum at Stanford Memorial Church
2011‑2012
Spring 2012, sang for Lucile Packard Foundation at Allied Arts in Menlo Park
2010‑2011
Founding year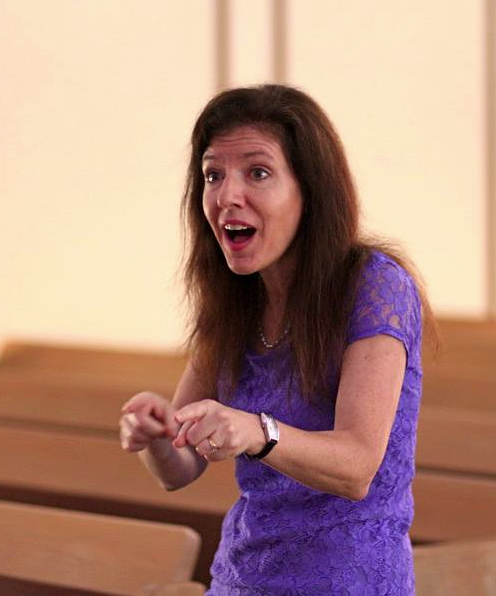 Julia Simon
Julia Simon
, Director and founder of the Silicon Valley Boychoir, has taught children and adults in schools, churches, and private organizations in California, New Jersey, Minnesota, and Arizona. She holds a Bachelor's degree from Concordia College, Moorhead, MN and a Masters degree from Westminster Choir College, Princeton, NJ and has studied conducting with Paul J. Christiansen and Joseph Flummerfelt.
Mrs. Simon has taught in the Palo Alto schools teaching choirs, general music, and
musical theatre. For eight years, Mrs. Simon worked with the Ragazzi Boys Chorus touring Australia and New Zealand as well as the Pacific Northwest where she led choirs at the Missoula International Choral Festival. She has taught singers in her voice studio, training them for auditions and performances with the S.F. Symphony, S.F. Opera, Opera San Jose, and West Bay Opera as well as local performances and competitions.
She also composes and has had several pieces premiered and performed locally and has several children's pieces published by Augsburg Fortress. Mrs. Simon has performed as soloist and chorus member with Soli Deo Gloria and its select chamber choir Camerata Gloria and the vocal jazz group, the San Andreas Singers.
---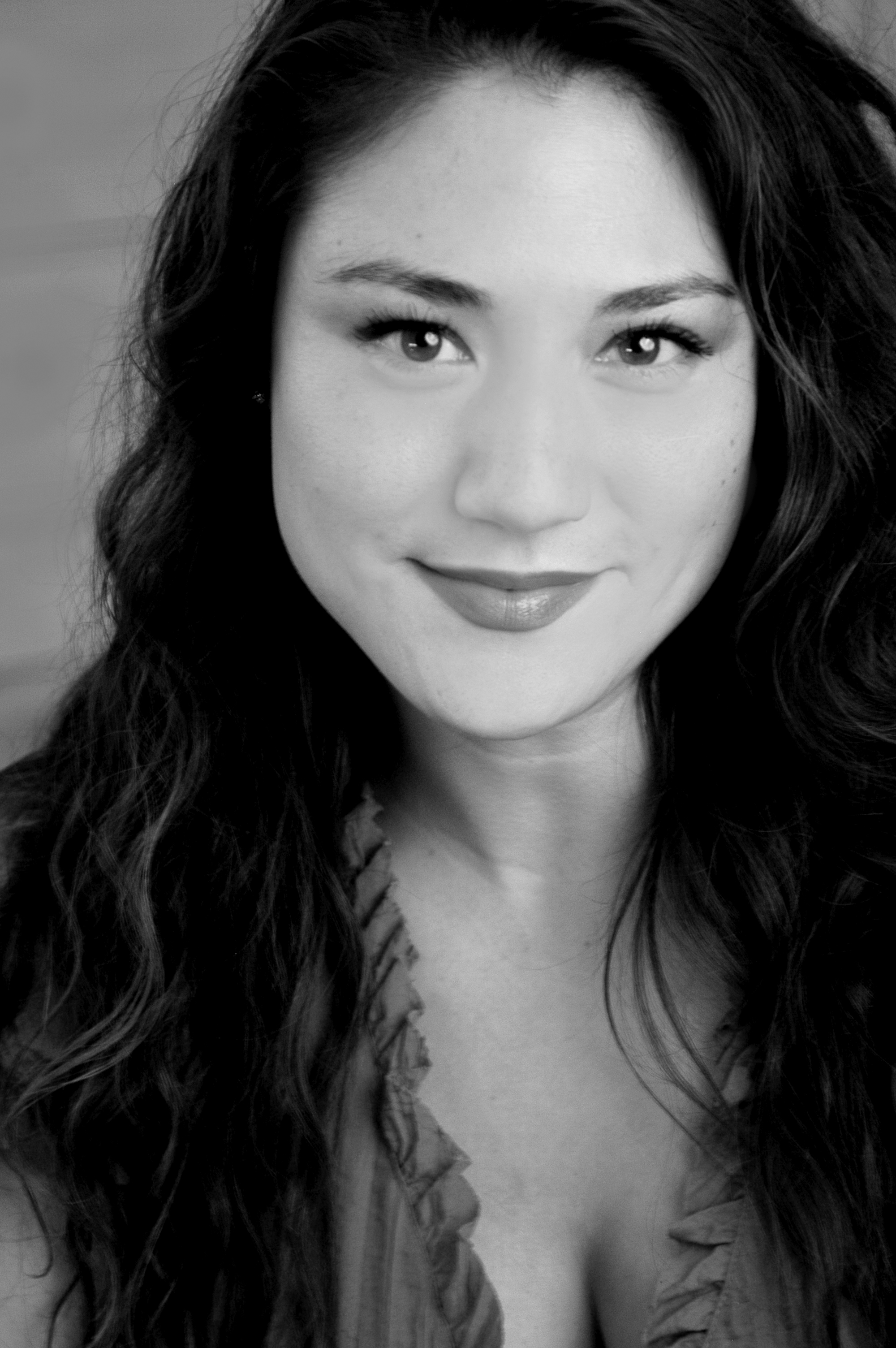 Kaia Richards
, Overture director, earned her Masters of Music and Doctor of Music in Vocal Performance from Indiana University, Jacobs School of Music. She received her B.M. in Music from California State University, East Bay.
She was most recently seen as Mabel in The Lamplighters' production of Pirates of Penzance and as Angel Gabriel in Josef Haydn's The Creation with Soli Deo Gloria (Alameda, CA). Kaia's IU Opera Theater appearances include Carmelite nun in Francis Poulenc's Dialogues des Carmélites and Bridesmaid in William Bolcom's A Wedding. She sang the soprano solo with her alma mater, Cal State East Bay, in their recent concert of Beethoven's Choral Fantasy and sang with the San Francisco Bay Area Chamber Choir on their Summer France tour. Kaia played Frasquita in George Bizet's Carmen for the International Institute of Vocal Arts in Italy.
She has been a voice coach for Moreau Catholic High School (Hayward, CA), Presentation High School (San Jose, CA), Bedford North Lawrence High School (Bedford, IN) and Good Shepherd Lutheran Church (Hayward, CA).
Under the baton of Raymond Leppard, she was a member of the chamber group Apollo's Voice. When Kaia isn't performing, she teaches a thriving voice studio and directs the choirs at St. James the Apostle Catholic church. Kaia is also the soprano section lead for the Menlo Park Chorus.
---
Allen H Simon
, Encore director, holds advanced degrees from Westminster Choir College and the University of Arizona and has been the Artistic Director of
Soli Deo Gloria
for thirty years. Dr. Simon is also active as a composer and arranger.
---
Highlights from our recent concert, from beginner boys to young men:
Tuition for 2021-2022
(August - May)
Silicon Valley Boychoir is a 501(c)3 nonprofit arts organization (EIN: 45-2913530).
Tuition covers all rehearsals, small group instruction, online classes, music rental, plus costs incurred for accompanists and facility rental. The fee does not cover concert outfits, performance tickets, or additional t-shirts.
Concert and Ovation families will pay a refundable deposit for their concert outfits ($25/$75).
New singers will be billed a one-time materials fee of $150 which is due at the time of acceptance and acts as a non-refundable deposit.


Full year — 1 payment
Due by Sept 1
By semester — 2 payments
Due by Sept 1 / Jan 15
Overture Choir
$1390
$695
Concert Choir
$1570
$785
Ovation Choir
$1570
Encore Choir
$1570
If health regulations limit us to online instruction, all levels will be $649 per semeseter
Make checks payable to: Silicon Valley Boychoir (SV Boychoir), or pay online.
10% tuition discount for additional sibling.
It is preferred that tuition be paid at or before the first rehearsal.
Late fee of $25 may be assessed.
Tuition assistance: Please submit a SVB need-based Tuition Assistance form to the board with your request stating need and providing evidence of previous assistance. Forms are due August 1 for the fall semester and Jan. 1 for the spring semester.
SVB is a 501(c)3 non-profit arts organization (EIN: 45-2913530). Your support is appreciated.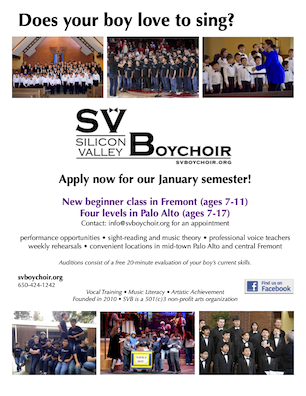 Click for details
Auditions by appointment
Grace Lutheran Church, 3149 Waverley St., Palo Alto
650-424-1242 or email:
Julia Simon
No preparation necessary. Auditions will consist of a stress-free interview and a short evaluation of the singer's current skills. Boys will be placed in one of the choir levels shown below based on their skills and experience.
Overture Choir — Tuesdays 3:45-5:30pm
(Beginning level), for boys ages 7 and up with limited skills.
Skills covered: matching pitch, steady rhythm, vocal tone building, beginning sight-reading, repertoire: unison classical and folk music plus rounds.
Concert Choir — Tuesdays 4:00-5:45pm
(Intermediate/Advanced level), for boys ages 8-14 with previous choir experience and/or instrumental lessons, boys match pitch and are ready for 2-part music of choral standards including classical and contemporary works, continued sight-reading experience, more advanced tone building.
Ovation Choir — Tuesdays 5:30-7:30pm
(Advanced level), for boys ages 9-14 with previous choir experience and/or instrumental lessons, boys are ready for 3-part music in a variety of styles and languages including classical and contemporary works, continued sight-reading experience, more advanced tone building.
Encore Choir — Tuesdays 5:30-7:30pm
(Advanced level), for boys ages 14-18 with changed voices and previous choir experience.